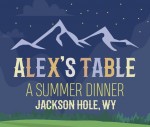 Alex's Table: A Summer Dinner in Jackson Hole 2018
07/05/2018
After the massive of success of last summer's Alex's Table fundraising dinner, where over $100,000 was raised for Alex's Lemonade Stand Foundation (ALSF), we, in partnership with the Kelly and Balyasny families, will be hosting another Alex's Table dinner this Saturday, July 7.
This summer's event, Alex's Table: A Summer Dinner in Jackson Hole, will feature seven notable chefs from across the nation as they provide an intimate dinner and exquisite plates for guests. Each chef will present an appetizer and a main course and guests will enjoy pairings from Gramercy Cellars, Roadhouse Brewing Co., Jackson Hole Still Works, Wyoming Whiskey and Codigo Tequila. All the money raised from this event will benefit ALSF and their efforts to fight childhood cancer.
Historically, ALSF and the culinary world have a strong connection. Beginning in June 2006, the first Great Chefs event was held and raised over $50,000, and since then, the culinary community has played an active role in fundraising events for the organization.
Alex's Lemonade Stand Foundation emerged from the front yard lemonade stand of cancer patient Alexandra "Alex" Scott. In 2000, 4-year-old Alex announced that she wanted to hold a lemonade stand to raise money to help find a cure for all children with cancer. Since Alex held that first stand, the Foundation bearing her name has evolved into a national fundraising movement, complete with thousands of supporters across the country carrying on her legacy of hope. To date, ALSF has raised more than $140 million toward fulfilling Alex's dream of finding a cure, funding over 690 pediatric cancer research projects nationally.