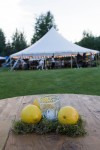 Summer 2018 Alex's Table Dinner Fundraiser Results
07/18/2018
After countless hours of preparation and inspiring collaborative efforts, the long-awaited Summer 2018 Alex's Table Dinner in Jackson Hole has now come, gone, and exceeded all expectations.
The setting was absolutely beautiful, as 80 people gathered around four large farm tables, nestled beneath a canopy at the stunning home of Dmitry and Rebecca Balyasny. The dishes served spanned across a wide range of cuisine styles. From a Geoduck crudo prepared by Ethan Sowell (of Ethan Sowell Restaurants), to a crispy pork shank prepared by Zach Pollack (of Alimento and Cosa Buona), all the dishes were exquisite and paired perfectly with wine provided by Grammercy Cellars. The dinner would not have been complete without a delectable dessert prepared by Adam Dulye (Executive Chef of the Brewers Association) that was served with a Wyoming Whiskey cocktail.
The passion and support of the attendees and those who participated in hosting the event was tangible. After several moving testimonies from Kristin Kelly, Gavin Fine, and Alex's mother Liz Scott, the night was concluded by an astounding $235,000+ raised to support the pediatric cancer initiatives of Alex's Lemonade Stand Foundation (with donations still coming in!).
Building from the success of this summer's event, we are already looking ahead to next year's event. Couldn't make the dinner but interested in supporting Alex's Lemonade Stand? Click here to make a donation. And if you're in the Los Angeles area, stop by and see Gavin at LA Loves Alex's Lemonade this September.