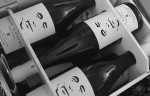 Don Cosimo Wines - a new, exclusive import
01/26/2016
In a special wine import project, Fine Dining Restaurant Group is now the sole importer of Don Cosimo wines. These Sicilian wines are sold in four varietals, including Nero d'Avola, Grillo, Catarratto and Sparkling Grillo, and are only available at Fine Dining restaurants in Jackson Hole. This new addition marks a special time for Fine Dining restaurants - further personalizing the unique dining experiences available at their restaurants by allowing guests access to wines not found anywhere else in the U.S.
Don Cosimo wines originate from the heart of the best land for Sicilian wines, produced by small batch producers and imported directly from Italy to their new home in Jackson Hole. The four wines are available to purchase by the bottle and case from the Bin22 and Bodega bottle shops, while a rotating selection of the wines are also available by the glass at all Fine Dining restaurants, including The Kitchen, Bin22, Rendezvous Bistro, Q Roadhouse & Brewing Co. and Il Villaggio Osteria. The exclusive Don Cosimo wines are available for $17.99 a bottle in retail stores, with case discounting available.
Take a sip and fall in love, just as we did!