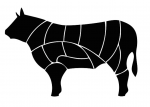 Fine Dining Restaurant Group and Carter Country Beef form unique relationship
07/23/2015
Part-time professional snowboarder, part-time cattle rancher, Mark Carter and his brother RC embody the Wyoming lifestyle. Relying on sheer acreage and Mother Nature to harvest their beef, the Carter family has been raising cattle in Ten Sleep, Wyoming for four generations. Grass fed and grain finished, the Carters' product is some of the best beef in Wyoming and it's all being delivered to your plate in the most humane way possible.
About fifteen months ago, in the spring of 2014, RC approached Fine Dining Restaurant Group with hopes to create a unique and lasting relationship. FDRG decided to set up a tasting at Rendezvous Bistro and owners Roger Freedman and Gavin Fine, Executive Chef and Partner of The Bistro Joel Tate, and Chef de Cuisine of the Q Roadhouse & Brewing Co. Matty Melehes, spent the day preparing different cuts of Carter Country Beef to taste the product.
"Unanimously we believed their product was the best we had tasted in Wyoming," explained Matty. "They embody everything we stand for. The issue was how to create a sustainable relationship that could keep up with the high demand of five busy restaurants."
Planning for a steak to be delivered to the table is a process that starts 24-28 months in advance. With each cow producing only a few primal cuts, something unique needed to happen for the Carters' ranch to keep up with the demand. That is when RC suggested that FDRG buy whole cows to divvy up between its five restaurants. Each restaurant could make use of all the cuts in different ways. Superior quality, family run, and truly sustainable as humanly possible, FDRG was sold and committed to a truly unique Wyoming partnership.
So what makes Carter Country meat so tasty?
"The Carters rotate their cattle from different fields, allowing them to self-graze on grass, then alfalfa, before being finished on corn to bulk them up and give them the desired fat content," explained Chef Joel Tate. "RC Carter's attentiveness with his cattle is exceptional. On top of that, Ten Sleep's water has been rated some of the best in the state."
The relationship is as personal as any, and really brings new meaning to farm-to-table practices. The Carters slaughter the cows at a USDA facility in Fort Collins before Mark or RC drive seven hours to Jackson to personally deliver FDRG their product. It is then portioned out at The Bistro by Joel and sent to the different restaurants. In addition to serving the beef across the five different menus, Joel is working on using marrow bones for dog treats as well as organs and tallow fat for dog food that will soon be sold at the Bodega. Joel is in constant contact with RC on product development and is passionately committed to using every last piece of each cow. In the summer, FDRG often uses an entire cow per week, making use of cuts that would typically go to waste. Since the tasting at the Bistro, FDRG has used thirty-five cows, bringing them from the Carters' pasture to the plate in a variety of unique and mouth watering ways.
Carter Country beef can be found prepared in a variety of ways in our restaurants, including:
- Steak Tartare - CCM chuck roast, huckleberry-jalapeño jam, housemade potato chips at Q Roadhouse & Brewing Co.
- CCM Burger - CCM top round and shoulder, garlic aioli, tomato and butter lettuce on a Persephone Bakery bun at Q Roadhouse & Brewing Co.
- Carne Asada Tacos - CCM chuck roast and salsa roja at Q Roadhouse & Brewing Co.
- Beef and Summer Veggies - CCM chuck roast and bottom round, wild mushrooms, zucchini, squash and paprika crème-fraiche at Q Roadhouse & Brewing Co.
- Beef Tartare - CCM sirloin, yard egg, capers and housemade potato chips at Rendezvous Bistro
- Beef Bourguignon - CCM top and bottom round, carrots, kohlrabi, wild mushrooms, pearl onion, bacon and chickpeas at Rendezvous Bistro
- Bardo's Burger Stacker - double CCM top round and shoulder, American cheese, shaved iceberg lettuce, pickles and Russian dressing at The Kitchen
- Grilled Steak - rotating primal cut, potato lardo puree, grilled asparagus and citrus butter at Il Villaggio Osteria
Imagery by Cor Tiemens.