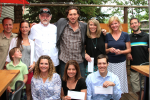 Fine Dining Restaurant Group Donates Over $14,000 to Non-Profits from Spring Fundraising Effort
07/08/2014
Led by Owners Gavin Fine and Roger Freedman, Fine Dining Restaurant Group presented $14,052.02 to worthy non-profits in a reception last Thursday at Bin22, leading to a total of over $79,000 raised through Jackson Hole off-season specials since Fall 2011.
The nine beneficiaries of the money included eight Jackson Hole organizations and one South Africa-based organization. These non-profits were featured this spring in our bi-annual off-season fundraising effort where guests purchase one entrée and receive a second entrée for $2. One hundred percent of the money from the sale of the second entrée benefited the non-profit featured that week. This initiative started in 2011 and has generated donations for over 45 organizations, all but two of which were based in Jackson Hole.
Featured non-profits are selected on a first-come, first-served basis where local organizations submit their information – including mission statement, non-profit status and local affiliation. In addition to local organizations, the final week's beneficiary is chosen by a Fine Dining Restaurant Group employee. This spring, Adonis Musati Project was chosen as the final non-profit by longtime Rendezvous Bistro employee Todd Kosharek. Other recipients of Spring 2014 fundraising efforts included Teton Adaptive Sports, Teton Botanical Gardens, Teton County Education Foundation, Jackson Hole Music Experience, Jackson Hole Conservation Alliance, Jackson Hole Trout Unlimited, CLIMB Wyoming and Jackson Hole Community Counseling Center.
In addition to the Jackson Hole off-season specials, we run a similar program at our Park City restaurant, Silver, to benefit Park City-based organizations. We are also proud to participate in several other fundraising initiatives and continue to donate time and in-kind donations to locally-based organizations outside our "2 for 2" specials.
"Our off-season specials are our way of giving back to the Jackson Hole community and thanking them for their continued support – support of our businesses, but also in the way they support and uphold the integrity of our community through their involvement with area non-profits. By offering discounts during our shoulder seasons, locals are able to take advantage of discounted meals, while also joining us in offering funding to the worthy causes that strengthen our community," said Gavin Fine, Co-Owner of Fine Dining Restaurant Group.
We will continue our fundraising efforts with nine new organizations in the fall. To learn more about our philanthropic contributions and off-season specials, click here.