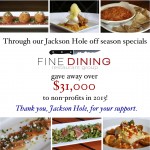 Fine Dining Restaurant Group Gives Away Over $31,000 Through 2013 Off-Season Specials
01/24/2014
Through off season specials at Fine Dining Restaurant Group's Jackson Hole restaurants, over $31,000 was given to non-profits in 2013. These bi-annual specials allow guests to buy one entree and receive a second entree for $2 (where the $2 is donated to a weekly featured non-profit).
Beneficiaries of 2013 fundraising efforts included:
- Dancer's Workshop
- Grand Teton National Park Foundation
- Slow Foods
- Teton County Library
- Children's Learning Center
- Greater Yellowstone Coalition
- Silicon Couloir
- Make a Stand Lemonade
- pARTners
- Habitat DIGS
- Jackson Hole Youth Soccer
- Craighead Beringia South
- Wildlife Film Festival
- Jackson Community Recycling
- Snake River Fund
On behalf of the entire Fine Dining team, we send our sincere gratitude to the Jackson Hole community for helping to make this possible!
For more information on our dedication to being supportive community partners through our off season fundraising efforts, please click here.