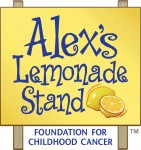 Jackson Hole community rallies for Alex's Lemonade Stand
06/08/2017
Building from the success of this winter's inaugural Alex's Table: A Winter Dinner in Jackson Hole, a group of Jackson Hole children will gather together this weekend to host a lemonade stand outside Roadhouse Pub & Eatery to benefit Alex's Lemonade Stand Foundation.
The lemonade stand, which will be hosted on Saturday, June 10 from 2-5pm by Wilson Elementary School students Bode and Jacob Fine, alongside friends Oscar, Max and Bridget Andersen, will serve complimentary lemonade and lemon treats to guests. Guests will then have the opportunity to make a donation to ALSF, a national non-profit which raises money for pediatric cancer. The fundraising effort is in collaboration with the foundation's annual Alex's Lemonade Stand Days, when thousands of supporters across the country host lemonade stands or events to raise money for much needed childhood cancer research and resources for the families who are affected.
Locally, the lemonade stand is part of a large community effort to support ALSF. The effort began this winter under the drive of Fine Dining owner Gavin Fine and Jackson Hole resident Kristin Kelly. A winter dinner was hosted at the Kelly residence, in partnership with ALSF, Fine Dining Restaurant Group, the Kelly family and noted guest chef Marc Vetri of Philadelphia. The inaugural event raised close to $20,000 for ALSF and sparked many fires - from inspiring local kids to become involved to creating the idea of a summer event.
This summer's event, Alex's Table: A Summer Dinner in Jackson Hole, will be hosted July 8 in the Il Villaggio Osteria private dining room by noted chef David Burke, in partnership with Gavin Fine, Fine Dining Restaurant Group and Niner Wine Estates. All the proceeds from the dinner will be donated to ALSF. Tickets are available to purchase
here
.
We invite you to join us in being part of the local effort to raise money for pediatric cancer by stopping by Roadhouse Pub & Eatery this Saturday. And don't forget to purchase your tickets for what promises to be a one-of-a-kind fundraising event on July 8.
About Alex's Lemonade Stand Foundation
Alex's Lemonade Stand Foundation (ALSF) emerged from the front yard lemonade stand of cancer patient Alexandra "Alex" Scott (1996-2004). In 2000, 4-year-old Alex announced that she wanted to hold a lemonade stand to raise money to help find a cure for all children with cancer. Since Alex held that first stand, the Foundation bearing her name has evolved into a national fundraising movement, complete with thousands of supporters across the country carrying on her legacy of hope. To date, Alex's Lemonade Stand Foundation, a registered 501(c)3 charity, has raised more than $140 million toward fulfilling Alex's dream of finding a cure, funding over 690 pediatric cancer research projects nationally.