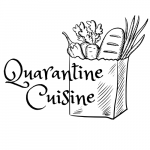 Quarantine Cuisine to Bring Food and Comfort for Teton County Residents in Quarantine
04/15/2020
Over the past week, we have been proud to collaborate with Cynthia Hogan to launch Quarantine Cuisine. Starting today, Wednesday, April 15, Quarantine Cuisine will deliver meals and groceries to individuals in mandatory or self-imposed quarantine due to confirmed exposure to COVID-19.
Cynthia Hogan, the founder of Quarantine Cuisine, says she realized the need thanks to the ongoing COVID Food Insecurity Calls. The calls bring together all the organizations with clients in need of meals and that revealed that a number of the existing non-profits were already stretched thin.
She said, "Residents across Teton County don't have enough groceries—and need access to comforting, hot meals delivered to their quarantine location." Sometimes that location is their home, sometimes that has to be a hotel room to ensure the health and safety of their families.
What Cynthia designed is as simple as it is feasible and builds on the specific expertise of Fine Dining Restaurant Group and Jackson Whole Grocer.
A partnership between philanthropy and business that capitalizes on the strengths of each sector, Quarantine Cuisine delivers two main services. First, a choice of two hot meals daily, delivered to a customer's residence (home or hotel). Second, a pre-determined bag of groceries delivered on demand. To keep it simple, the choice is between a small or large bag which should last a week for up to 2 or 4 persons respectively. The grocery bags will include menu suggestions to cook at home and recipe cards.
When Teton County Public Health notifies individuals about mandatory quarantine, they will also notify them about Quarantine Cuisine. Individuals who are under self-imposed quarantine due to chronic disease or other health concerns are also welcomed. Customers can get on-line at JHfoodhelp.com and fill in a short intake form to place orders for prepared meals or bags of groceries. Payment is offered on a sliding scale: customers can pay in full or make a contribution according to what they can comfortably afford. Funds will go back into Quarantine Cuisine to pay for staff time, food preparation, deliveries, and groceries. The Community Foundation of Jackson Hole and The Hole Quarantine provided funding to launch the program.
Fine Dining, Hole Food Rescue, Jackson Whole Grocer, Mountains of Groceries and ¡HOLA! Spanish Academy & Services have all offered discounts, access, and free time and labor to ensure that project is a success and those who are in quarantine are able to access the food that they need.
Gavin says, "Feeding members of our community is what we're all about so we're thrilled to be collaborating on this project. When we learned that a number of the existing non-profits were already stretched thin, we wanted to help in the way we know best. People in our community need support and Quarantine Cuisine's mission is simple. We want to make sure people have hot meals and groceries."