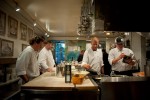 Fine Dining Returns to the Famed James Beard House
10/28/2016
For the third straight year, the Fine Dining Restaurant Group will be cooking at the historic James Beard House. The group previously partnered with Jackson Hole Mountain Resort (and Spur Restaurant in 2015) in two dinners using Wyoming as the inspiration for the menu. This year, Fine Dining Restaurant Group attends the dinner as the sole architects behind the menu; Gavin and team will keep true to their Wyoming roots while highlighting house-made creations from across the diverse group of restaurants.
James Beard was a pioneer in the culinary world, penning countless cookbooks and teaching generations of professional and amateur chefs the art of cooking. His former home, located in Greenwich Village in Manhattan, acts as a performance space for chefs to showcase their art.
Notable chefs who have cooked at the Beard house in the past include Daniel Boulud, Emeril Lagasse, Nobu Matsuhisa, Jacques Pépin, Marcus Samuelsson and Charlie Trotter. Fine Dining's chef team will include owner Gavin Fine, culinary director Joel Tate, executive pastry chef Chad Horton, Serge Smith of Il Villaggio Osteria and Matt Lombardo of Bin22. Beverage Director Neil Loomis will be in attendance to aide with all things liquid, while Kendra Alessandro and Justin Henry will be at the Beard House with the daunting task of juggling the logistical puzzle of executing a dinner 2,000 miles from home.
The James Beard House dinners seat 80 guests and tickets go for $175—this includes a seven course paired dinner. The Beard House has their own front-of-house service staff, which Justin Henry and Neil Loomis will join as maitre'd and sommelier. The rest of the Fine Dining Crew will be in the kitchen plating each course together, which we can all watch online at https://www.jamesbeard.org/kitchen-cam on November 2nd at 5pm MST.
The ever charismatic Gavin Fine will speak briefly at the end of the dinner in a Q&A forum, and has been known to announce his culinary team as if they were an NBA lineup gearing up for a playoff game. With his Cubs in the thick of the World Series, perhaps he will draw inspiration from his favorite sports team for this year's introductions…
Photo: Gavin, Chad, Joel and Roger prep in the James Beard kitchen during the 2014 event. Photo by Liz Clayman.