Spring 2015 fundraising a success
07/15/2015
During the spring and fall shoulder seasons, we are proud to offer our community support through off-season specials. These dining deals feature a different Jackson Hole non-profit organization to receive funds each week. At Rendezvous Bistro, Q Roadhouse & Brewing Co. and Il Villaggio Osteria, guests are able to purchase one entree and receive their second for $2. Similarly, at Bin22, guests may buy one plate and receive the second for $2 during lunch. At The Kitchen, a special $12 dinner menu provides flexibility to taste several different dishes while also raising money to support the Jackson Hole community. With each promotion, we are proud to donate the money from the second plate, or $1 per guest (at The Kitchen) to the weekly featured non-profit.
We are pleased to announce that in Spring 2015, with the help of the Jackson Hole community, we were able to raise $15,964 in just two months. On behalf of the Fine Dining family, we would like to send a big "Thank You!" to our dedicated guests that helped make this possible. Thank you for joining us in supporting the incredible organizations that strengthen and grow the foundation and spirit of our community.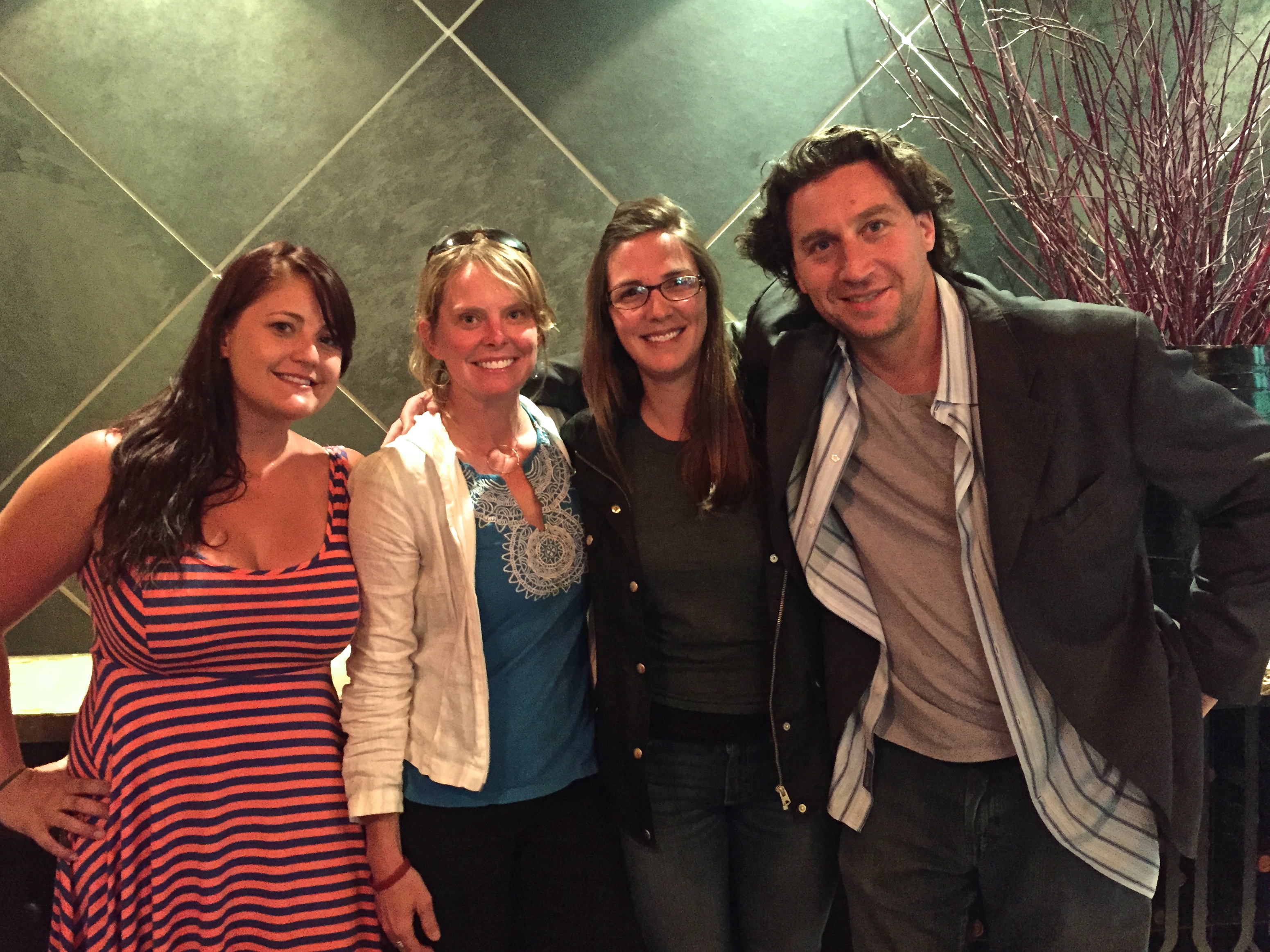 Together with representatives from this spring's featured non-profits, we joined to celebrate the success of off-season fundraising efforts with a reception at Rendezvous Bistro. Pictured here: Representatives from Pink Ribbon Riders, Teton Raptor Center and the People's Market with Gavin Fine.
The Spring 2015 beneficiaries of Jackson Hole fundraising efforts included:
April 6-12: Pink Ribbon Riders
April 13-19: JH Historical Society & Museum
April 20-26: Jackson Hole Wildlife Foundation
April 27-May 3: Animal Adoption Center
May 4-10: People's Market, a program of Slow Food in the Tetons
May 11-17: Teton Literacy Center
May 18-24: Teton Raptor Center
May 25-31: Teton County Animal Shelter (Employee's Choice)